DiviPay partners with accounting body CA ANZ to help prevent credit card fraud

Virtual credit card tech company DiviPay has today announced a new partnership with Peak accounting body Chartered Accountants Australia and New Zealand (CA ANZ) to help tackle credit card fraud.
The partnership allows CA ANZ members to put secure fraud controls in place when it comes to company card spending, especially whilst most of the country has been working from home in non-secure environments.

This includes complimentary access to DiviPay for all members working in public practice. CA ANZ members working within business (or industry) have access to exclusive discounts as part of the partnership.
CAANZ Members in practice can create their complimentary partner account here.
The Australian award-winning innovation, DiviPay, rids business of credit card fraud threat by allowing access to virtual company cards, tailored with limits, budgets and protections on what can be bought where.

There is full and immediate transparency on every single transaction.
DiviPay also automatically captures merchant data, GST and GL codes for each transaction, which flow through to cloud accounting software automatically.
CA ANZ Senior Manager, Strategic Partnerships, Alex Peasland says the partnership is about CA ANZ addressing members' needs around credit card protection.

"This offering will add another layer of data protection for members, improve reporting transparency, and makes the job of reporting expenses significantly more efficient," said Alex.

DiviPay Head of Accounting, Trent McLaren, says the partnership with CA ANZ sends a strong message to accounting practice owners on the issue of credit card fraud.
"This partnership with CA ANZ is a testament to the benefits our product can have to protect against credit card fraud," Trent said.
General Manager of All In Advisory, winner of Accountants Daily mid-size Firm of the Year, Lee Duffield CA, can attest to that from her experience with DiviPay.
"I think all accounting firms can benefit from DiviPay. It's a no-brainer not just for us, but for our clients," said Lee.
"It removes the need to process reimbursements and from a risk control perspective, there's so much to be said for the relief I now feel that I have full transparency on what my staff spend and what they spend on," concluded Lee.

Another supporter of this partnership is CA ANZ member and Xero's winner of Australian Partner of the Year in Bookkeeping, Meryl Johnston, Founder and CEO of Bean Ninjas.
"One of the three Bean Ninjas core values is freedom. This is the ability for our team and clients to choose when, where and how much they work, so they can have a fulfilling career and lead a meaningful life.
"I support this partnership with DiviPay because it's important we leverage these new technologies to achieve the freedom we seek," said Meryl.
CA ANZ Member Benefits officially introduces the DiviPay partnership to members with a launch webinar with DiviPay's Trent McLaren scheduled on Wednesday 3rd of November. Register here.


For CA ANZ members to gain exclusive access to DiviPay, please email trent@divipay.com with subject line "CA ANZ Member Benefits"
Trent McLaren
Head of Accounting & Bookkeeping Channel
View Profile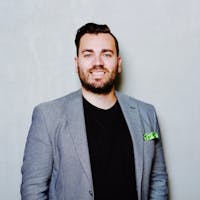 Trent has been working in the accounting industry, focused on technology and improved service models for accountants and bookkeepers for nearly a decade!
During this time Trent's become a public speaker, writer, blogger, columnist, friend, mentor, mentee and more to some of the most influential people, media companies, software giants, industry bodies and public figures working in accounting.